The GL GOLF Academy enjoyed an amazing day out with 7 clients at Astbury Hall on Sunday 2nd June 2013.
The weather was gleaming and the course was in awesome condition, all made for a unique day for the GL GOLF Academy and its clients.
The day started with some light tuition focusing on chipping and pitching, followed by a few pointers on the putting green before heading out for battle on the championship course at Astbury Hall.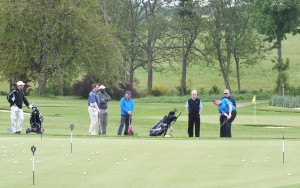 Elford Douglas prevailed as the winner with an incredible 42 points, only just missing a putt on the 18th for a gross score of 79.. this would of been Elford's first sub 80 round! Maybe the short game coaching proved of help after all!
For the full story of our day, and for more free golf tips, please visit;  https://www.facebook.com/glgolfacademy and look in the photo albums.
NEXT TUITION AND PLAYING DAY AWAY AT ASTBURY HALL IS
SUNDAY 4TH AUGUST 2013