The 2013 summer camps at Warley Woods Golf Course proved our most successful EVER!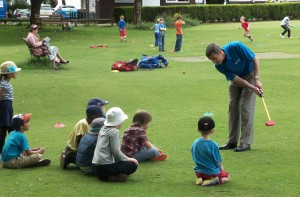 A record number of children aged between 5 – 16 attended our sessions during the first 5 weeks of the school holidays.
Over 120 children, with a varied mix of boys and girls from all ethnic backgrounds were given the opportunity to experience golf in a fun and welcoming environment.
WHAT AN AMAZING SUCCESS!!
The GL GOLF Academy coaches, Greg  and level 1 coach, Nathan delivered the sessions in a fun and exciting way where children learnt through a variety of different tasks and games.
Academy owner and PGA Professional, Greg Lynch says, " The children showed great enthusiasm throughout and it was a pleasure to coach these sessions. We run a 'winter club' through the months of October – February and many of the children that attended the summer camps have chosen to continue on  with their golfing experience and have signed up for the next 5 months! I think this shows just shows what a great success this years summer camps really were."   
Junior golf is a genuine passion of ours and we plan to continue to grow our junior sections around Birmingham so that we fulfill our potential as an academy.
We have many junior golf projects in the pipeline that include;
Holding after school clubs at 5 new schools next term! (Sept 2013)

Working closely with Brandhall Primary School in the West Midlands to build a Tri-Golf course and  develop a  partnership to coach the children throughout the entire calender year linking them into our junior academy.

Planning the 2014 Luke Reid 9 hole junior tournament at Warley Woods GC – another 2013 success!

Develop links with AVFC and WBA community programmes.

And whatever else we can take on!!!
If you would like to see more photo's from the 2013 summer camps please click here…
IF YOU WOULD LIKE YOUR CHILD TO ATTEND GOLF LESSONS THEN LOOK NO FURTHER..
Contact Greg Lynch today on 07812 579 929 or email greg@glgolfacademy.com.